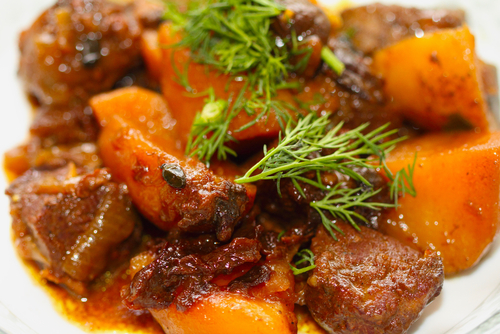 Moroccan Lamb and Kumara Tajine (stew)
Print this recipe
This flavourful stew makes for a hearty winter meal.
Submitted by Danya
| | | |
| --- | --- | --- |
| | Cook Time | 70 |
| | Prep Time | 15 |
| | Servings | 5 |
Ingredients
2 tsp olive oil
500g boneless lamb, trimmed and diced
1 large onion, chopped
3 cloves garlic, crushed
1 tsp ground coriander
1 tsp ground cumin
1 tsp paprika
salt and freshly ground pepper
2 tbsp tomato paste
3 large kumara, peeled and cut into 2cm square cubes
1/2 cup pitted prunes, roughly chopped
4 sprigs fresh parsley
rice or couscous
Method
Preparation Instructions
Preheat the oven to 180 degrees Celsius. If possible use a casserole dish that can be transferred directly from stove top to oven. Alternatively, cook firstly in a frying pan and then transfer to a suitable ovenware dish for baking.
Cooking Instructions
Heat the oil in a pan over a moderately high heat. Add the lamb and cook for 4 minutes or until lightly browned. Transfer the lamb to a plate and put aside. Add the onion and garlic to the pan and cook for 5 minutes or until the onion is tender. Return the lamb to the pan, add the coriander, cumin, paprika, and salt and pepper to taste, stirring to coat. Add the tomato paste and 1 cup water and bring to the boil. Transfer ingredients to a casserole dish if necessary and bake in oven for 30 minutes. Add the kumara, prunes and 1/3 cup water. Cover again and bake for a further 30 minutes or until the lamb and kumara is tender.
Serving Instructions
Top with the parsley and serve with rice or couscous. Unlike a traditional Moroccan tajine this stew can be cooked in any type of casserole dish. However, if you are lucky enough to have a tajine (Moroccan conical shaped terracotta casserole dish) it makes for an exotic serving dish.