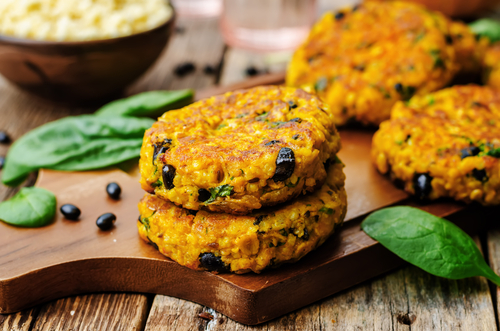 Spicy Latino Kumara and Bean Burgers
Print this recipe
This recipe makes a spicy vegetarian patty that can be used in homemade burgers or made smaller as an entree with dipping sauce.
Submitted by Danya
| | | |
| --- | --- | --- |
| | Cook Time | 15 |
| | Prep Time | 10 |
| | Servings | 8 burgers |
Ingredients
2 tbsp olive oil
4 spring onions, thinly sliced
6 cloves garlic, finely chopped
1-2 green chillies, finely chopped
1 tbsp ground cumin
800g canned black beans or red kidney beans, drained and rinsed
salt and freshly ground black pepper to taste
280g grated raw kumara
1 egg, lightly beaten
4 tbsp dried breadcrumbs

NOTE: vary the amount of chilli depending on your tolerance
Method
Preparation Instructions
To make burgers, heat half the olive oil in a small frying pan over medium heat. Cook spring onions until softened, about 1 minute. Stir in garlic, chillies and cumin and cook until fragrant, about 30 seconds. Transfer onion mixture to a large bowl. Stir in black beans and mash with a fork. Season to taste with salt and pepper. Add kumara, egg and breadcrumbs to form a stiff mixture. Divide into 8 balls, and flatten into patties or alternatively, shape smaller balls to make bite size starters. Lightly grease baking tray with the remaining oil.
Cooking Instructions
Place patties on the tray and grill for 8 to 10 minutes. Turn cakes over, and grill until crisp, about 3 minutes more. If you prefer, use the BBQ or frying pan to cook the patties instead.
Serving Instructions
Serve with your favourite salad ingredients in a burger bun or with a lime seasoned sour cream dipping sauce.