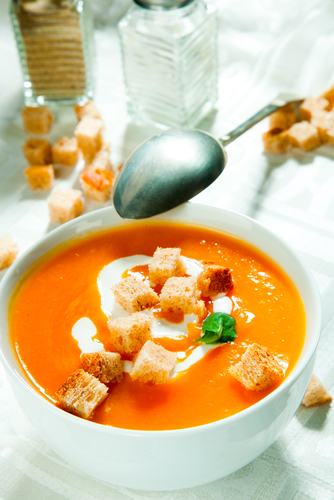 Kumara Soup with Buttered Pecans
Print this recipe
A lovely soup with nutty garnish.
Submitted by Paul
| | | |
| --- | --- | --- |
| | Cook Time | 20 |
| | Prep Time | 10 |
| | Servings | 10 |
Ingredients
3/4 cup onion, finely chopped
1 cup leek, finely chopped
2 large garlic cloves, crushed
3 large carrots, sliced thinly (about 1 1/2 cups)
1 bay leaf
3 tbsp butter
3 large kumara
1 baking potato
5 cups chicken broth
3/4 cup dry white wine
1 1/2 cups water

Buttered Pecans:
3/4 cup chopped pecans
2 tbsp butter
creme fraiche or sour cream as a garnish
Method
Preparation Instructions
In a saucepan cook the onion, leek, garlic and carrots in the butter, with the bay leaf over moderate heat, stirring, until the vegetables are softened. Season with salt and pepper. Peel the kumara and potato. Halve lengthwise and slice thinly. Add the kumara and potato to the saucepan along with the chicken broth, wine and water. Simmer the mixture, covered, for 15 to 20 minutes, or until the potatoes and kumara are very tender. Discard the bay leaf. In batches, puree the mixture in a blender until very smooth; then transfer to a saucepan. If necessary, thin with extra chicken broth to achieve desired consistency. NOTE: this soup may be made in advance and chilled and reheated. To make the buttered pecans: Using a frying pan with a heavy base, cook the pecans in butter with salt to taste, over a moderate heat for about 10 minutes. Stir occasionally, until the pecans are golden brown then transfer them to paper towels to drain. These can be made up to two days in advance if kept in an airtight container.
Serving Instructions
Divide the hot soup among bowls and top each serving with a dollop of creme fraiche and some of the buttered pecans.