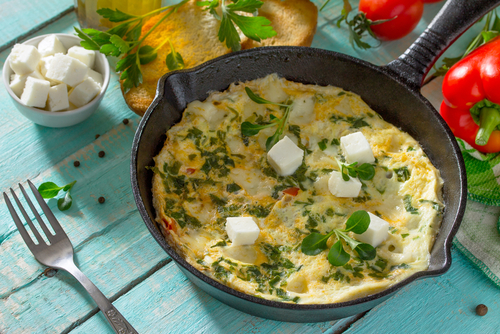 Goat Cheese, Kumara and Crouton Omelettes
Print this recipe
Makes a tasty weekend brunch and is faster to make if you have left over kumara from dinner the night before.
Submitted by Kate
| | | |
| --- | --- | --- |
| | Cook Time | 10 |
| | Prep Time | 10 |
| | Servings | 2 |
Ingredients
2 tbsp butter
1 cup country style bread, cut in 1cm cubes
1 medium kumara
1 small red onion, sliced thinly
60g soft mild goat cheese crumbled
1 tsp fresh rosemary leaves, minced
5 large eggs
salt and freshly ground black pepper
Method
Cooking Instructions
Pre heat oven to 180 degrees Celsius. In a 20cm non-stick frying pan, melt 1 tbsp butter over a moderate heat, transfer to a bowl and toss with bread cubes. Place bread cubes in oven on a baking tray and toast until pale golden and crisp, about 10 minutes. Remove and transfer to a bowl. Peel kumara and cut into 1/2cm dice. In a steamer set over boiling water and steam kumara and onion for about 4 minutes or until tender. Remove from heat and toss with croutons. When cool toss with goat cheese and rosemary. In a bowl whisk together eggs and salt and pepper to taste. Heat the frying pan again with 1/2 tbsp butter over a moderately high heat. Pour in half egg mixture, tilting pan to spread evenly over the base of the pan. Cook omelette for 1 minute, or until almost set, stir top layer with back of fork and shake pan to let uncooked egg run underneath. Sprinkle half of omelette with half of crouton mixture and cook a minute more, or until set. Fold omelette over filling and transfer to plate. Keep warm while repeating the process to make the second omelette.