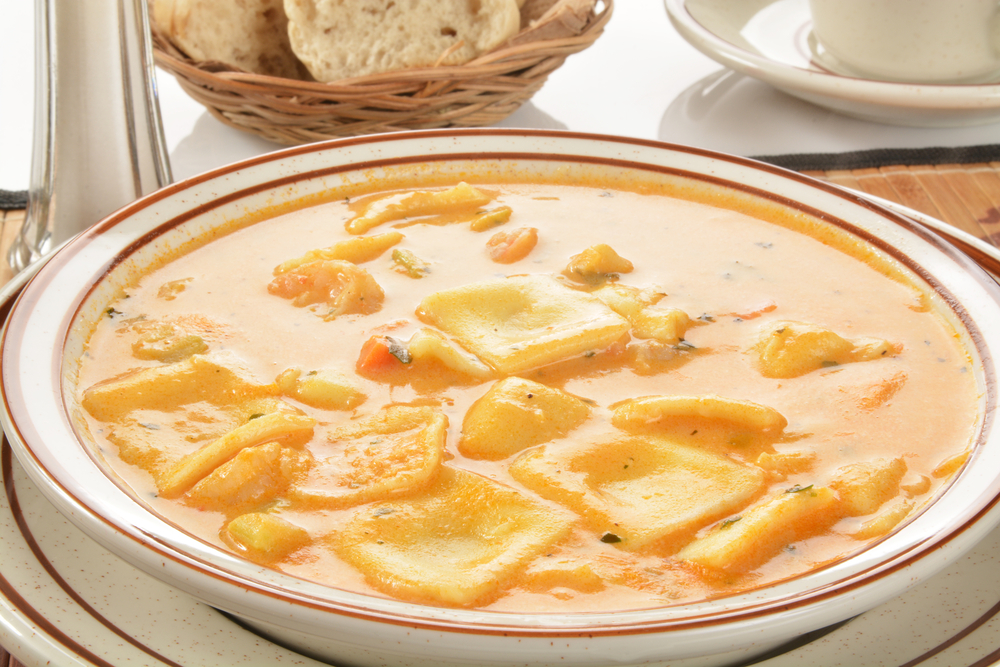 Roast Kumara Bisque with Ravioli
Print this recipe
Traditionally in French Cuisine bisque is a soup where the main ingredients are cooked twice. This Roasted Kumara Bisque makes a whole meal with a ravioli garnish.
Submitted by Carmen
| | | |
| --- | --- | --- |
| | Cook Time | 85 |
| | Prep Time | 10 |
| | Servings | 4 |
Ingredients
4 large kumara
6 tbsp butter
1 leek, white part only sliced
2 onions, sliced
10 cups chicken stock
1 sprig thyme
1 stem parsley
1 bay leaf
1 tsp black peppercorns
salt and freshly ground pepper to taste
2 tsp chopped chives
ravioli (1 pre bought packet or homemade)
Method
Preparation Instructions
Bake the kumara at 180 degrees Celsius for 45 minutes, or until just tender. Remove from oven and cool to room temperature. Peel the kumara, discarding the skins, and cut the flesh into large chunks.
Cooking Instructions
Heat 4 tbsp of the butter in a large saucepan and add the leek and onions. Cook over a medium heat for 8 to 10 minutes, or until translucent. Add the kumara and 8 cups of the stock bringing to the boil. Tie the thyme, parsley, bay leaf and peppercorns in a piece of cheesecloth and add it to the pan. Lower heat to medium and simmer for 30 minutes. Remove and discard the spice bag and season to taste with salt and pepper.
Serving Instructions
Ladle soup into bowls and top with 3 warm ravioli. Sprinkle with the chopped chives. Note: the bisque can be prepared in advance and reheated just prior to serving.