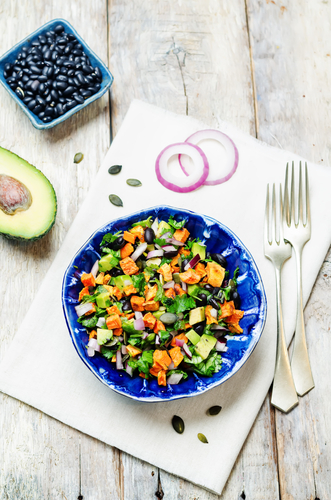 Wild Kumara Salad
Print this recipe
The combination of flavours in this salad will drive your taste buds wild!
Submitted by Doreen
| | | |
| --- | --- | --- |
| | Cook Time | 15 |
| | Prep Time | 20 |
| | Servings | 4 |
Ingredients
6 kumara
200g bacon
3/4 cup red onion, minced
1 cup gherkin, minced
1/2 cup fresh basil, roughly chopped
4 tbsp chilli sauce
3 tbsp wholegrain mustard
1 1/2 cups mayonnaise
salt and pepper to season
Method
Preparation Instructions
Peel and dice kumara in to 1cm squares. Place in a large saucepan, cover with cold salted water and bring to boil. Check after 4 minutes – kumara should be just soft through but keeping its form. Strain off the water and spread the cooked kumara out on a tray to cool. Once cooled place in a large mixing bowl. Cut the bacon into bite sized pieces and saute until crisp. Drain off excess fat and add to the kumara. Then mix in the red onion, gherkin and basil. Finally add the chilli sauce, mustard and mayonnaise – carefully fold through combining all the ingredients and season with salt and pepper to taste.