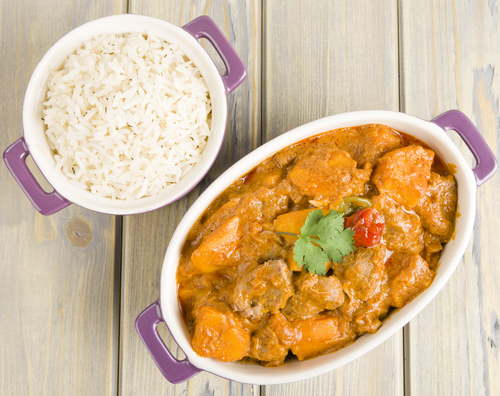 Punjabi Inspired Kumara Curry
Print this recipe
This Indian curry is a Punjabi inspired dry style vegetarian curry. Serve traditionally - hot with rice or in roti wraps with salad for a light lunch alternative.
Submitted by blah blah blah cafe/bar in Dargaville
| | | |
| --- | --- | --- |
| | Cook Time | 25 |
| | Prep Time | 15 |
| | Servings | 6 |
Ingredients
1kg peeled kumara, cubed
3 tbsp sunflower oil
2 tsp paunch pora (see below)
2 onions, finely diced
4 tbsp chopped coriander stalks or leaves
2 tsp turmeric
3 tsp salt
1 tsp chilli
1/2 cup hot water
2 tsp garam marsala
2 tbsp lemon juice
800g spinach (optional)

Rice or roti to serve

PAUNCH PORA
Combine:
2 tbsp black mustard seeds
4 tbsp cumin seeds
2 tbsp fenugreek seeds
1 tbsp fennel seeds
Method
Cooking Instructions
Heat oil and add paunch pora. When mustard seeds pop add onion and cook slowly until soft. Add coriander, turmeric, salt, and chilli. Add kumara, stir to coat. Add water and cover, cooking over a low heat for 20 minutes or until kumara is soft. Add more water if required. Sprinkle with garam marsala and lemon juice, cover and cook for a few more minutes. At this stage you may like to add the optional spinach (blanched and moisture squeezed out).
Serving Instructions
For a main dish serve on a bed of basmati rice, garnished with a sprig of fresh coriander, raita and chutney. For a lighter alternative, place curry in roti and roll into a wrap, serve with a side salad and natural unsweetened yoghurt dressing.