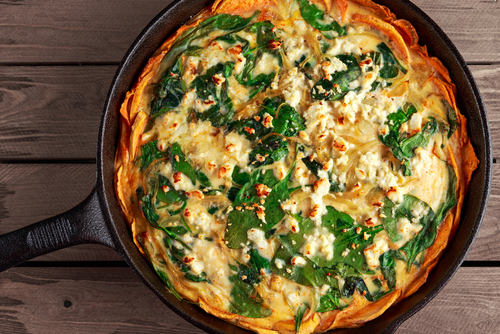 Burghal and Kumara Pastry
Print this recipe
A versatile pastry that allows you to be the creative genius! Combine with your own interesting filling to wow your guests! Use for canapes, quiches, pies or flan.
Submitted by blah blah blah cafe/bar in Dargaville
| | | |
| --- | --- | --- |
| | Cook Time | 10 |
| | Prep Time | 30 |
| | Servings | 1 large pie |
Ingredients
600g kumara, mashed
2 1/2 cups burghal wheat
3 3/4 cups boiling water
3/4 cup cheddar cheese, grated
salt and pepper
1 egg, beaten
2 tbsp extra virgin olive oil
1 cup fresh bread crumbs
Method
Preparation Instructions
Soak burghal in boiling water until all absorbed.
Cooking Instructions
Combine with remaining ingredients. Press to line chosen mold. Use as a base for a large pie, quiche, flan or in small muffin cases for canapes. Blind bake for 10 minutes in a 180 degree Celsius oven.
Serving Instructions
Top with desired filling for example chicken and saffron; smoked chicken, cranberry and brie; feta and spinach; smoked fish in white sauce. Return to oven to finish, if necessary, or serve as is depending on your chosen filling.