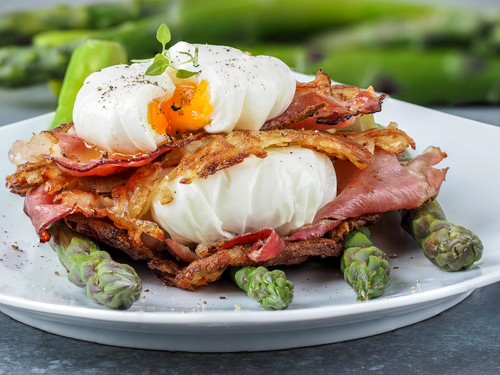 Kumara Rosti Brunch with poached eggs, bacon and hollandaise sauce
Print this recipe
A cafe style breakfast or brunch designed to impress family and friends at home.
Submitted by blah blah blah cafe/bar in Dargaville
| | | |
| --- | --- | --- |
| | Cook Time | 15 |
| | Prep Time | 30 |
| | Servings | 6 |
Ingredients
KUMARA ROSTI
750g kumara, peeled and coarsely grated
1 cup shredded spring onion
1 tsp salt and pepper
2 eggs
2 tbsp flour

HOLLANDAISE SAUCE
1/2 cup unsalted butter
2 tbsp lemon juice
1/4 tsp salt
4 large egg yolks
1 dash Tabasco sauce
lemon zest

eggs
bacon rashers
Method
Preparation Instructions
Peel and coarsely grate kumara, rinse and squeeze out excess water. Place in a large bowl and add spring onion, eggs, salt, pepper and flour. Combine well. Make into desired hash brown style shapes. Fry until golden on the outside and kumara is soft on the inside (can be finished in oven if preferred). To make hollandaise sauce microwave butter, 1 tbsp lemon juice and salt in a medium microwave safe bowl, covered with plastic wrap, on high power until butter melts, about 1 minute. Whisk to cool slightly. Whisk in egg yolks until blended. Microwave covered on medium power for 30 seconds and whisk until blended. Repeat twice. Whisk remaining lemon juice, zest and the Tabasco sauce. Makes 3/4 cup.
Serving Instructions
Serve Kumara Rosti in a stack with crisp bacon and poached eggs, drizzled with the lemony hollandaise sauce. Garnish with a twirl of spring onion or a chive.