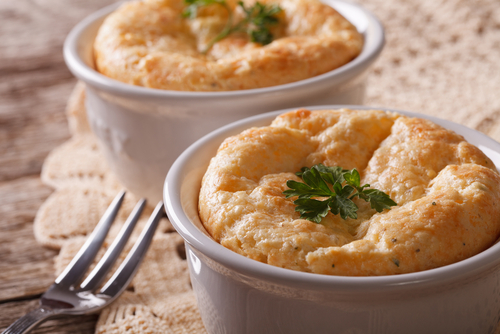 Kumara Souffle with Crisp Green Salad
Print this recipe
An easy microwave meal for one.
Submitted by Betty
| | | |
| --- | --- | --- |
| | Cook Time | 13 |
| | Prep Time | 10 |
| | Servings | 1 |
Ingredients
2 rashers bacon
1 egg
3/4 cup cold mashed pumpkin
1 small onion, chopped
2 tbsp flour
1 tbsp butter
1/2 cup milk
pinch of salt and ground nutmeg
freshly ground black pepper
1/4 cup grated tasty cheese
Method
Cooking Instructions
Remove bacon rind and cut into pieces. Put butter, onion and bacon in a one-litre glass measuring jug and microwave on high power for 1 minute. Stir in the flour, add milk and microwave for about 2-3 minutes or until thick, stirring every minute. Stir in the cheese. Separate the egg. Add the yolk to the sauce along with the kumara, salt, pepper and nutmeg. Beat egg white until stiff but not dry. Carefully fold egg white into kumara mixture. Lightly grease a one-cup capacity ramekin or souffle dish. Pour mixture into prepared dish. Elevate and microwave on 50 percent power for about 6 minutes or until risen and just set. Allow to stand for 2 minutes.
Serving Instructions
Serve with a crisp green lettuce or mesculin salad, lightly dressed with a balsamic vinaigrette.