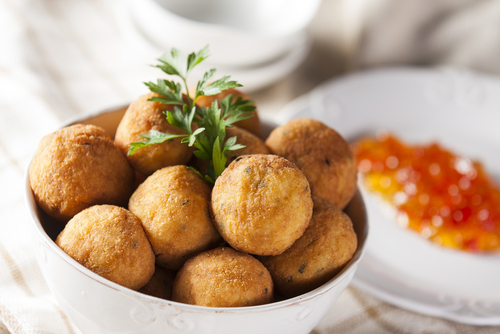 Beignettes de Kumara
Print this recipe
This adaptation of a small French dounut could be served as a sweet or savoury snack depending on your flavour preference.
Submitted by Pierre
| | | |
| --- | --- | --- |
| | Cook Time | 10 |
| | Prep Time | 10 |
| | Servings | 20 Beignettes |
Ingredients
3 large kumara, cooked and mashed
2 egg yolks
2 oz sherry
1/4 tsp nutmeg
salt and fresh black pepper
shredded almonds
Method
Preparation Instructions
Beat all the ingredients, except the kumara, until light and fluffy. Fold the kumara into the mixture. Cool. Shape into cylinders. Roll in flour. Beat the white of an egg until foaming. Roll floured beignettes in egg white and then in shredded almonds.
Cooking Instructions
Fry in hot oil at 190 degrees Celsius until golden brown. Drain on a kitchen paper towel.
Serving Instructions
For a sweet version dust with icing sugar and serve as a finger morsel or with ice cream. For a savoury version serve hot with a selection of your favourite dipping sauces: sweet Thai chilli, plum sauce, sour cream, garlic aioli. The number of beignettes produced will depend on the size you make them. This recipe should make about 20.