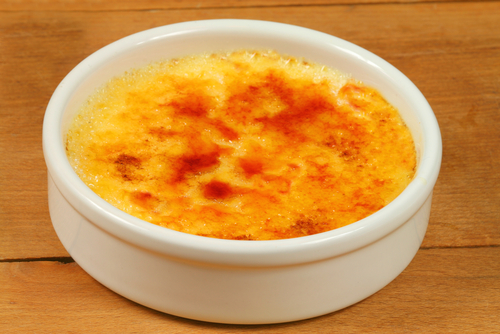 Baked Kumara Custard with Caramelised Banana
Print this recipe
A lovely traditional desert with an interesting addition.
Submitted by Patricia
| | | |
| --- | --- | --- |
| | Cook Time | 35 |
| | Prep Time | 20 |
| | Servings | 4 |
Ingredients
1/4 cup sugar
1/2 tsp salt
1/4 tsp nutmeg
1 tsp grated orange rind
1 3/4 cups milk
2 eggs, beaten
2 1/4 cups shredded raw kumara
1 tbsp melted butter

several bananas
butter
honey
whipped cream with a drop of vanilla
Method
Preparation Instructions
Add sugar, nutmeg, salt, orange rind and milk to the beaten eggs and mix thoroughly. Add kumara and butter.
Cooking Instructions
Bake in greased custard cups in a pan of hot water in 175 degree Celsius oven for 30 minutes or until set. Slice bananas length ways (1/2 a banana per person is enough), melt butter and honey together in microwave to make enough liquid to glaze the bananas. Fry bananas flesh down in a lightly buttered pan until bananas are soft, caramelised and skin has turned black.
Serving Instructions
Assemble bananas with skins still on in a bowl with a custard cup and a dollop of whipped cream. Serve.