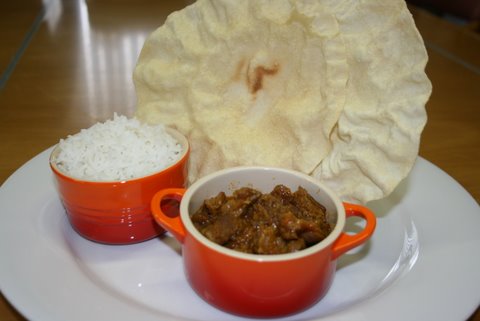 Kumara and Lamb Curry with Banana Coconut Chutney and fluffy rice
Print this recipe
A simple mild lamb curry that can be enjoyed by the whole family.
Submitted by Liz
| | | |
| --- | --- | --- |
| | Cook Time | 45 |
| | Prep Time | 20 |
| | Servings | 5 |
Ingredients
1 1/2kg cubed lamb
40g butter
1 large onion, chopped
1 clove garlic, chopped
2 tbsp flour
1-3 tbsp curry powder (or to taste)
1/2 tsp cinnamon
1/2 tsp ginger
2 tbsp tomato paste
450ml beef stock
150ml fruit juice
handful sultanas (optional)
1 medium carrot, grated
1 medium kumara, grated

CHUTNEY
2 bananas
shredded coconut
1/2 lemon, juiced
2 tbsp fruit chutney

rice
Method
Preparation Instructions
Cut lamb into neat cubes and remove as much fat as possible. Heat the butter in the pan and brown lamb evenly and seal well. Remove to plate. Add onion and garlic to butter and fry until pale gold. Stir in flour and curry powder, ginger and cinnamon. Add the tomato paste. Gradually add the stock. Add the carrot and kumara and stir until the sauce comes to the boil. Add fruit juice that has had sultanas soaking in it (if you have chosen to use the sultanas). Salt to taste.
Cooking Instructions
Replace the lamb cubes and simmer on stovetop until lamb is tender, stirring occasionally or bake in 180 degree Celsius oven. To make chutney combine 2 sliced bananas and a small handful shredded coconut with a good squeeze of lemon juice then stir in a 2 tbsp of pre made fruit chutney.
Serving Instructions
Serve curry with fluffy rice, chutney and a drizzle of unsweetened yoghurt.