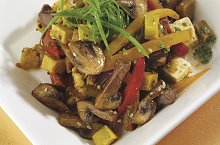 Warm Season Kumara and Mushroom Salad
Print this recipe
A lovely main course salad with warm earthly flavours and colours.
Submitted by Delta Produce
| | | |
| --- | --- | --- |
| | Cook Time | 20 |
| | Prep Time | 5 |
| | Servings | 4 |
Ingredients
1/4 cup extra virgin olive oil
3 medium Delta golden kumara, peeled and cut into 1cm cubes
2 red onions, peeled and finely chopped
500g brown button mushrooms, halved or in chunky slices
1 red pepper, deseeded and chopped into thin strips
1 yellow pepper, deseeded and chopped into thin strips
1 cup walnut halves
juice and grated rind of 3 limes
3 tbsp sweet chilli sauce
1 tbsp sesame oil
1 tbsp grainy mustard
salt and freshly ground black black pepper
250g feta cheese, cut into 1cm cubes
1 cup roughly chopped parsley
2 tbsp snipped chives
2 tbsp toasted sesame seeds
Method
Preparation Instructions
Preheat oven to 200 degrees Celsius. Pour oil into a roasting dish. Add cubed kumara and onions, stir to coat well.
Cooking Instructions
Roast for 10 minutes then add the button mushrooms and peppers. Cook for 5 more minutes then add walnuts for 2 more minutes. Pour into a large bowl including all the cooked on roasted bits from the pan and the oil. This becomes part of the dressing.
Serving Instructions
Add all the other ingredients and toss well to mix the dressing through. Serve warm in noodle bowls with crusty bread or wholemeal rolls. This recipe can be expanded to include other vegetables, i.e. potatoes, parsnip etc. You can add canned beans or salad greens. It can be served chilled as a summer salad.