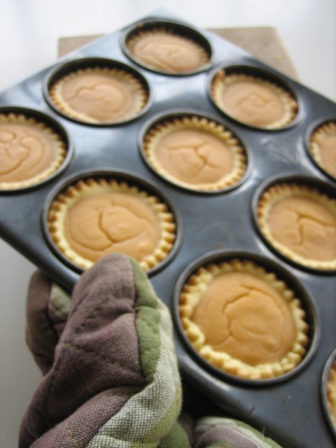 Cute Kumara Cheesecakes
Print this recipe
This cute little moreish baked cheesecake makes a brilliant and interesting desert when entertaining guests.
Submitted by Jenny
| | | |
| --- | --- | --- |
| | Cook Time | 30 |
| | Prep Time | 15 |
| | Servings | 12 mini cakes |
Ingredients
BASE
1 cup plain flour
1 tbsp caster sugar
80g cold butter
1 egg
zest of one lemon
2 tbsp cold water

FILLING
1 small kumara
30g cream cheese
30g sour cream
1/4 cup brown sugar
1 egg
1 tbsp lemon juice
1/4 tsp cinnamon
pinch of nutmeg
pinch of ground ginger
Method
Preparation Instructions
TO MAKE BASE Grease a 1 cup muffin tray. Preheat oven to 150 degrees Celsius. Rub the butter into the flour, sugar and lemon zest. Beat the egg and water and ad to the flour mix. Knead until smooth. Chill for 15 minutes. Roll the pastry out and prick out rounds using a cup or pastry cutter so that the round will fill a muffin tin cup. Place into muffin tins. TO MAKE FILLING Peel, cube and cook the kumara in a little water. Mash until smooth using the cooking water. Add the remaining ingredients and mix well until smooth. Pour into the muffin tins over the pastry base.
Cooking Instructions
Cook for 25 to 30 minutes at 150 degrees Celsius. Remove from oven and immediately place on a cooling rack.
Serving Instructions
Serve warm or chilled with a dollop of whipped cream. NOTE: if you are in a hurry pre-bought sweet short pastry works well as the base for these cheese cakes