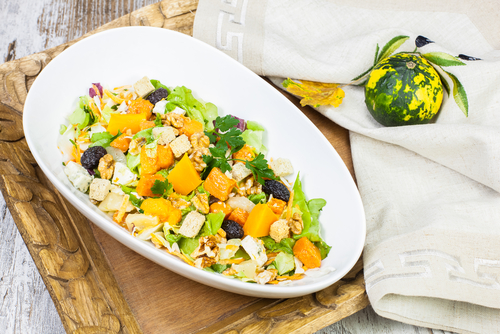 Pan-Roasted Kumara Salad with Ricotta Croutons
Print this recipe
This delicious salad makes an ideal meal for 2 or an artistic entree to serve to your dinner guests.
Submitted by Beth
| | | |
| --- | --- | --- |
| | Cook Time | 10 |
| | Prep Time | 15 |
| | Servings | 3 |
Ingredients
3 kumara (preferably golden/orange)
150g mixed salad leaves (try to include rocket as it has a nice bite)
5 tbsp olive oil
50g butter
1/2 ciabatta or baguette
4 tbsp vinaigrette
4 tbsp toasted walnuts
5 tbsp ricotta cheese
2 tbsp balsamic vinegar
1 tbsp olive oil
sea salt and freshly ground black pepper
shaved parmesan cheese to garnish
Method
Preparation Instructions
Peel the kumara and chop into 1cm square cubes, season with salt and pepper. Heat oil in a frying pan and add kumara. Saute for about 5 minutes. Add the butter and cook for about 4 minutes until kumara nicely caramalised and tender, shake the pan constantly to avoid burning. Remove from pan, drain on paper towel and cool slightly. Place washed and torn salad greens in a large bowl. Slice bread and brush with oil, lightly toast on both sides until crisp. Spread with ricotta cheese. Add kumara to salad along with walnuts and vinaigrette and toss.
Serving Instructions
Serve alongside Ricotta Croutons and top with parmesan shavings. Splash a drop or two of balsamic vinegar mixed with olive oil on plate for effect and extra bite. Serves 2-3 as a main or 4 as entree.