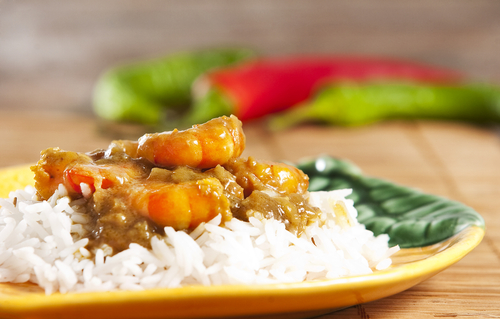 Thai Sweet Chilli Prawn and Kumara Curry
Print this recipe
This yummy Thai inspired curry will really please your taste buds.
Submitted by Olly
| | | |
| --- | --- | --- |
| | Cook Time | 15 |
| | Prep Time | 10 |
| | Servings | 3 |
Ingredients
2 tbsp Thai red curry paste
1 tin coconut cream
250g prawns
2 tbsp sweet chilli sauce
2 medium kumara
200g fresh mushrooms
oil
lime wedges (optional)
rice to serve
Method
Preparation Instructions
Toss prawns in sweet chilli sauce and set aside to marinate while preparing other ingredients. Wash and peel kumara. Using potato peeler, peel off about 12 long strips of kumara and place to one side. Chop the remaining kumara into approximately 1cm square cubes.
Cooking Instructions
Heat 2 tbsp oil in a deep frying pan; add cubed kumara and cook for about 3 minutes, stirring constantly. Add the Thai red curry paste and mix well then stir in half the coconut cream. Simmer for about 10 minutes until the kumara is soft. Slice the mushrooms and add to pan along with prawns and remaining coconut cream. Bring back to the boil and remove from heat. In a clean pan crisp the strips of kumara in oil, till golden brown.
Serving Instructions
To serve, pile rice in the centre of a bowl and spoon curry around it. Garnish with kumara crisps and optional lime wedges or a sprig of lemon grass. Serves 2 to 3.