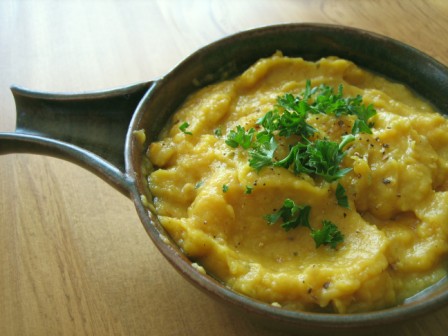 Parsnip and Kumara Soup
Print this recipe
Double the sweetness by combining these two root vegetables in this delicious winter warmer.
Submitted by Dorothy
| | | |
| --- | --- | --- |
| | Cook Time | 35 |
| | Prep Time | 10 |
| | Servings | 6 |
Ingredients
1 tbsp sunflower oil
1 large leek
2 celery sticks
450g kumara
225g parsnips
3 3/4 cups vegetable stock
salt and freshly ground pepper
fresh parsley
Method
Preparation Instructions
Slice the leek, chop the celery, peel and dice the kumara and parsnip.
Cooking Instructions
Heat the oil in a large saucepan and add the leek, celery, kumara and parsnips. Cook gently for about 5 minutes, stirring frequently to avoid them browning or sticking to the pan. Add the vegetable stock and bring to the boil, cover and simmer gently for about 25 minutes, or until the vegetables are soft. Stir occasionally. Remove from heat and allow to cool a little then puree the soup in a blender until smooth, return to the pan and gently reheat.
Serving Instructions
Serve with a sprinkle of fresh chopped parsley and fresh bread.