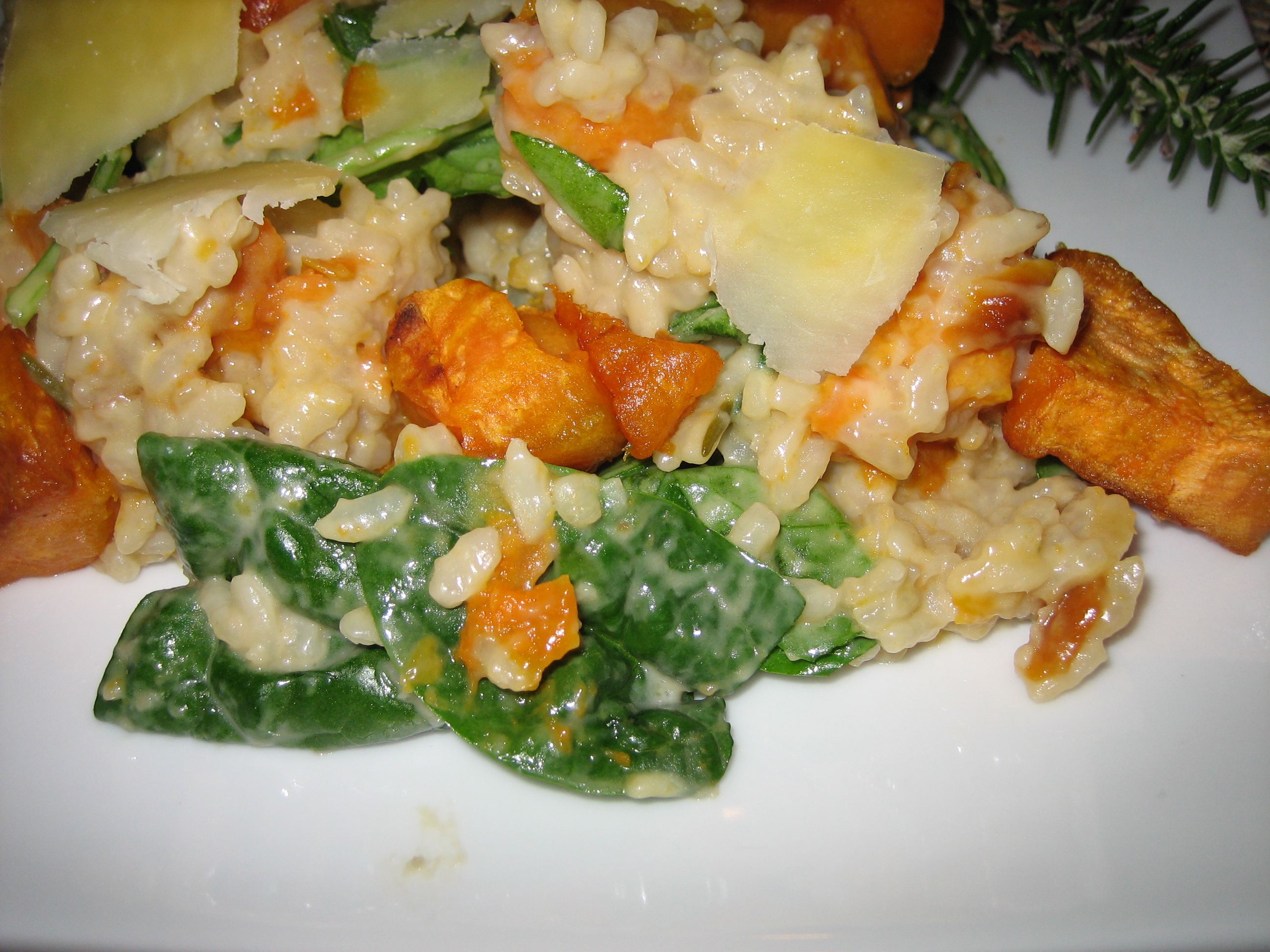 Roasted Beauregard Kumara and Rosemary Risotto
Print this recipe
This is a delicious adaptation of a favourite Italian risotto recipe.
Submitted by Danya
| | | |
| --- | --- | --- |
| | Cook Time | 35 |
| | Prep Time | 10 |
| | Servings | 4 |
Ingredients
4 large Beauregard (orange) kumara (approximately 1kg)
1/4 cup olive oil
1 1/2 cups Arborio rice
1 clove garlic, crushed
1 tbsp fresh rosemary
4 cups hot vegetable stock
150g baby spinach
1/4 cup coarsely grated parmesan cheese
1/4 cup cream
2 tbsp shaved parmesan
salt and pepper to taste
Method
Preparation Instructions
Peel the kumara and chop coarsely. Place in a baking dish with half the oil.
Cooking Instructions
Bake, uncovered, in a moderate oven until kumara is tender (about 35 minutes). Meanwhile, heat remaining oil in saucepan. Add rice; stir to coat in oil. Add garlic and rosemary; cook, stirring, until fragrant. Stir in one cup of the stock; cook, stirring, over low heat until liquid is absorbed. Continue adding stock in 1 cup batches, stirring after each addition. Total cooking time should be about 35 minutes or until rice is tender. Remove from heat. Stir in kumara, spinach, grated parmesan and cream. Stir over heat until hot.
Serving Instructions
Serve topped with parmesan flakes and seasoned to your taste. For a meat accompaniment this recipe goes nicely with grilled chicken breast pieces coated in piri piri seaoning. The hot chicken is complemented by the mild risotto. Tip: leftover risotto makes great patties when pan-fried. Serve these for breakfast or lunch with crisp bacon and sour cream.