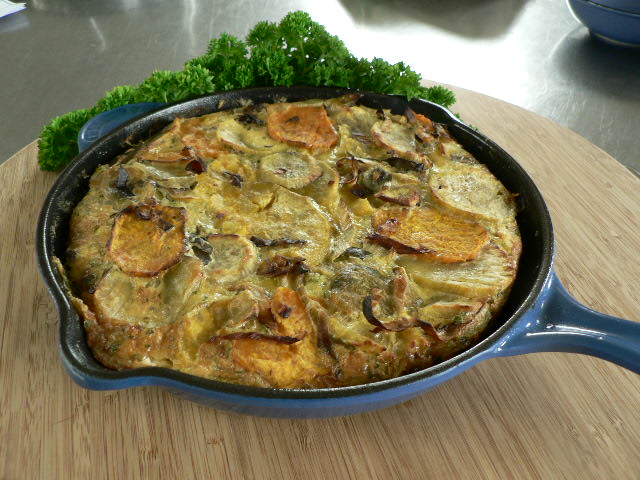 Kumara Frittata
Print this recipe
An Italian style omelete finished in the oven.
Submitted by Melanie
| | | |
| --- | --- | --- |
| | Cook Time | 20 |
| | Prep Time | 10 |
| | Servings | 6 |
Ingredients
3 tbsp extra virgin olive oil
2 large kumara
2 medium leeks, thinly sliced
4 cloves garlic, finely chopped
12 eggs
1/3 cup milk or milk and cream mixed
a splash of hot sauce
salt and freshly ground black pepper
1/2 cup shredded white sharp cheddar cheese
1/2 cup flat-leaf parsley leaves, chopped
Method
Cooking Instructions
Peel the kumara, cut in half and thinly slice. Pre heat oven to 180 degrees Celsius. Heat a 12 inch, oven safe frying pan over a medium-high heat. Add oil, kumara, leeks and garlic. Cook until vegetables are tender (about 6-7 minutes). Beat the eggs together with milk, a splash of hot sauce, some salt and pepper. Pour the eggs into the pan over filling. Using spatula, raise the cooked egg off the bottom of the pan, allowing more of the liquid eggs to settle on the bottom of the pan. Finish frittata off in the oven until set. Serve with a crisp green salad is desired.