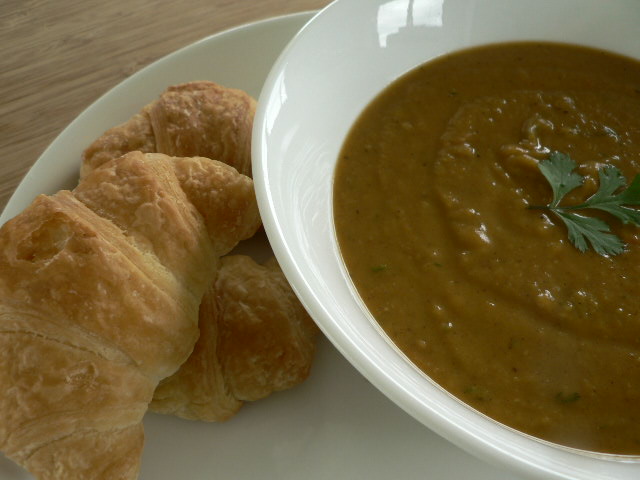 Out of Africa Tomato, Kumara and Peanut Soup
Print this recipe
This soup has an interesting combination of flavours including kumara, tomatoes and peanuts.
Submitted by Jesse
| | | |
| --- | --- | --- |
| | Cook Time | 35 |
| | Prep Time | 15 |
| | Servings | 6 |
Ingredients
1 tbsp oil
1 large onion, peeled and chopped
2 cloves garlic, crushed
2 tsp chopped fresh ginger
1 1/2 tsp ground cumin
1 1/2 tsp ground coriander
1/2 tsp ground cinnamon
1 pinch ground cloves
3 medium tomatoes, chopped
3 large kumara, peeled and chopped
1 carrot, peeled and chopped
4 cups vegetable stock
1/4 cup chopped, unsalted dry-roasted peanuts
1 pinch cayenne pepper
1 1/2 tbsp smooth peanut butter
1 bunch chopped fresh coriander
salt to season
Method
Cooking Instructions
Heat the oil in a large saucepan over medium-high heat. Fry the onion until lightly browned. Mix in the garlic, ginger, cumin, coriander, cinnamon and cloves. Stir in the tomatoes, kumara and carrot continuing to cook, stirring continuously for about 5 minutes. Pour stock into the saucepan and season with salt. Bring to a boil, reduce heat, and simmer for 30 minutes. Remove the soup from heat and blend in a food processor until almost smooth. Season with cayenne pepper. Return to the saucepan and whisk in the peanut butter, and cook until heated through.
Serving Instructions
Serve warm topped with fresh coriander and crusty bread.